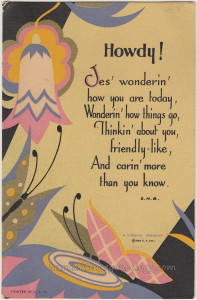 "Howdy!
   Jes'  wonderin'
   how you are today,
   Wonderin'  how things go,
   Thinkin'  about you,
   friendly like,
   And carin'  more
   than you know."
Cool, Art Deco style, greeting card of butterflies and flowers in pink, blue, black and gold tones, with metallic-type gold highlights of the type that stand out when you tilt the card toward the light. The background is a dark cream color. This is a beauty of a card.
Produced by the Gibson Art Company, 1929. Verse by E. M. B. Made in the U. S. A.
Size:  About 5 and 3/4 x 3 and 3/4″