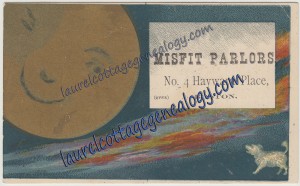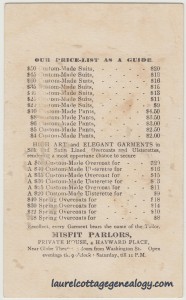 "Misfit Parlors. No. 4 Hayward Place, Boston." 
A very similar card for this establishment (with moon and dog) was found online as having been sold at auction; hence the heavy watermarks on ours above. But what a beauty, with the winking moon, the sky colors, and the little white dog! The reverse side advertises their price listing for custom-made pants and overcoats, and includes the lovely phrasing:
"High Art and Elegant Garments in Silk and Satin Lined Overcoats and Ulsterettes, rendering a most opportune chance to secure….A $50.00 Custom-Made Overcoat for  – – – $20.00….."  
"Recollect, every Garment bears the name of the Tailor."
"Misfit Parlors. Private House, 4 Hayward Place, Near Globe Theatre, 3 doors from Washington St.   Open evenings till 9 o'clock; Saturday, till 11 P.M."
A want ads posting in the Boston Post dated September 10, 1892, finds the Boston Misfit Clothing Company located just down the street, at 26 Hayward Place. (Newspapers.com)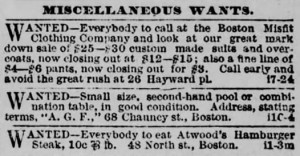 In checking city directories for both the addresses, it would appear that the Misfit Clothing Company may not have been long in operation. Various individuals show at the Hayward Place addresses in the 1880s and 1890s, under a variety of occupations, so it would seem there was a high turnover for tenants. This fact, along with the above ad being in the want ads, probably indicates the proprietor didn't have a lot of money to spend on advertising, and was not doing well enough to continue for very long, or perhaps just moved on to something he or she liked better.
The phrase "misfit clothing" seems to have been one used back in the day. Another ad for a tailor (unrelated to the trade card company) advertised in the 1880 Fall River, Mass city directory,  "Misfit clothing altered to perfect fit." 
A parlor is not always a brothel….
The very similar card (mentioned at the beginning of this post) that we found online as having been sold at auction, was described as advertising a brothel. And one can see how the use of the word "parlors" could invite this interpretation, but really without any records found to back up this claim, or even stretching it, as if the clothing store was a "front" or something….well, you can do the math.
Trade Card. Circa 1892.      Selling price:  To be determined. Please contact web owner if interested.     Size:  About 5 and 1/8 x 3 and 1/8″

Sources:  Boston Post. 10 September 1892. Saturday, p. 7. (Newspapers.com.)
Ulster coat. n.d. https://en.wikipedia.org/wiki/Ulster_coat. (accessed November 8, 2015).
Sampson, Davenport & Co.'s Fall River Directory, 1880, Vol 14. p. 526. (Ancestry.com. U.S. City Directories, 1822-1989.)