Divided Back, Real Photo Postcard, unused. KRUXO stamp box, circa 1908 – 1910.
Price:  $15.00
Portrait of a beautiful young woman, in satin dress with tucks and a ruffled high lace collar…..
This particular KRUXO stamp box, with four-leaf clovers in each corner, is known to be from 1908 – 1910. Here's the name written on the back:

As you can see, the ending of the surname is a little run together, however, we're not finding any other potential matches under name variations.
And there's no guarantee, but still we feel pretty confident that we have the right person in the details below:
Martha is the daughter of George Reifschneider and Katrina Redder, both German emigrants. (The Redder surname is from Ancestry.com family trees.) Martha was born in Iowa about May of 1890. She married Carl Sietmann March 9, 1910 at the home of her parents in Blairstown, Missouri.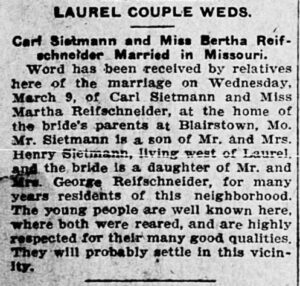 Sources:  "K-L. Real Photo Postcard Stamp Boxes." Playle.com. Accessed April 11, 2023.
Year: 1900; Census Place: Jefferson, Marshall, Iowa; Roll: 447; Page: 3; Enumeration District: 0109. (Ancestry.com).
"Laurel Couple Weds." Evening Times-Republican (Marshalltown, Iowa). March 16, 1910. Wednesday, p. 9. (Newspapers.com).