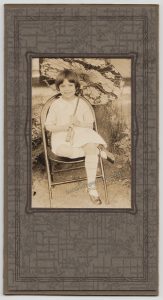 Photo in cardboard folding frame. Photographer unknown. Glossy finish, Velox paper. Circa late 1920s – 1940s.
Price:  $10.00       Size including frame:  About 4 and 1/2 x 8 and 1/2″

Multiple layers for photo detecting
The Velox marks that appear on the back of the photograph indicate the time frame was maybe around late 1920s – '40s. But this one has a lot of other clues, too, though it feels like we're dancing around the answer without quite finding it:  We looked at the cardboard frame style, the dress, the striped knee socks, the floral pattern of the Japanese-style paper parasol, the metal folding chair, the shoes (Mary Janes with a alligator pattern around the heal, very snazzy by the way) and the hairstyle. And then for location, the foliage (No, we didn't really get that crazy. But, that is a tree trunk we're seeing behind the umbrella, not a blur in the image.) My feeling is 1930s for the era, but we'll update it later if a better estimate comes around. And then the girl….a great girl. We don't know her name, but wasn't this a nice captured moment of happiness?
Source:  Messier, Paul. "Notes on Dating Photographic Paper." p. 125. Topics in Photographic Preservation, Volume 11. 2005, Photographic Materials Group of the American Institute for Conservation of Historic & Artistic Works. http://resources.conservation-us.org/pmgtopics/2005-volume-eleven/11_16_Messier.pdf. (accessed March 3, 2018).