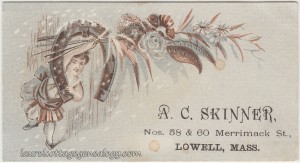 Business and advertising card. Circa 1872 – 1891

Price:  $12.00           Size:  3 and 7/8″ x 2 and 1/8″

This is either a trade card or calling card or maybe a combination of both. A. C. Skinner ran a "fancy goods" store at the address given on this card:  Numbers 58 & 60 Merrimack St. in Lowell, Massachusetts. And the card shows a beautiful little design of a petite lady or elf, holding a few branches with various flowers and leaves; because of the copper and light blue-gray colors of the card they almost appear to be a dried flower arrangement. It's sort of an awkward pose for the little elf, holding onto a horseshoe (which hangs from a nail) with one arm, and with the other outstretched above her head to display the flowers, and it's snowing. A somewhat unexpected illustration and ever so charming.
Exactly who A. C. Skinner was was not found in online records, but a huge amount of time was not spent searching. There is a Methodist pastor under this name in Lowell, at Saint Paul's church in 1916, but one wouldn't want to assume that they are one in the same. In any case, numerous city directory entries were found for A. C. Skinner showing from at least 1866 through 1870 that his store was located at 63 Merrimack St. and was advertised as "Laces, Embroideries & Dress Trimmings."  1872 through as late as 1891 he was located at 58 & 60 Merrimack St., and was advertised as  "Fancy Goods."
The long-time Lowell department store Bon Marché which operated from 1878 – 1976, had an early connection with A. C. Skinner. Bon Marché's founder, Frederick Mitchell, once worked for A. C. Skinner.
Sources:  Ancestry.com. U.S. City Directories, 1821-1989. Various Lowell, Massachusetts city directories, 1866 – 1891.

"Remembering Downtown Lowell's Bon Marché through the Years, 1878-1976." Forgotten New England, March 6, 2012. Web accessed February 1, 2015.