Divided back, used postcard. Postmarked September 22, 1986 from North Suburban, Illinois. Photographer and publisher:  W. Schermer, 1795 Pierre Lauzon, Pierrefonds, PQ (Montréal). Printed in Canada. Numbers or series:  57999-B and D-1152-R.
Price:  $10.00
Wall murals (love them!) This restaurant in Québec City originated in the 1950s but is now, unfortunately, permanently closed.
Described on the back of the card as:   "Le Restaurant à l'ambiance 100% parisienne. air climatisé. 36 Côte de la Montagne, Québec, Canada. – Tél. 692-0557 – 1er étage."
Addressed to:  "Tiroler Hof Motel. 150 – Carp – River – Hill. Marquette, Mich 49855."
Tiroler Hof translates as Tyrolean Court and was built and run by Austrians Sepp and Annemarie Hoedlmoser who came to Marquette in 1957….The motel later became the Nordic Bay Lodge and then was torn down in 2015. In the photo below, taken October of 1983, the owners stand in front of the chapel.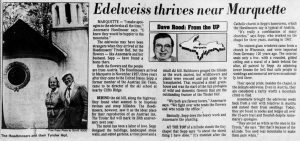 From a slice of Austria in the U.P. to French Canada to North Suburban, IL, with other stops (…the German stained glass from a Wisconsin church that graced the chapel…..) along the way, we've traveled alongside the postcard's sender, who wrote:
"09/21/86. Mag lichkeit besteht…….MONDAY den 28 Sept. an …..für die Farben zu besichten. Freundliche Grüsse……Lucille Bubl."
Translated as "It is true…….to visit for the colors. Friendly regards…." That might be two signatures there. (Maybe a husband drew the goofy face.) And we're not sure on Lucille's last name, but maybe someone who reads German can help us out!
Sources:  Rood, Dave. "Edelweiss thrives near Marquette." Detroit Free Press. October 28, 1983, p. 3. (Newspapers.com).
"Old Tiroler Hof/Nordic Bay Lodge torn down." The Mining Journal. November 15, 2015. (www.miningjournal.net).