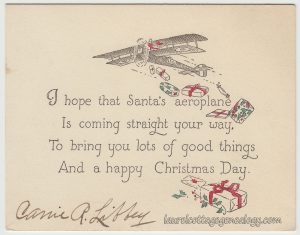 Vintage Christmas card, publisher unknown.Circa 1917 – 1930s.

Price:  $4.00           Size:  3 and 1/2 x 4 and 1/2″

"I hope that Santa's aeroplane

Is coming straight your way,

To bring you lots of good things

And a happy Christmas Day."
Signed,  "Carrie R. Libbey."
The biplane in this artwork may have been inspired by the Sopwith Camel, due to the bullseye designs under the lower wing. (Maybe these designs have a specific name per Camel aficionados, and someone can let us know.) Note the lack of landing gear on the plane, but the pilot was Santa so maybe he didn't need any! And hey, the initials S.C. on the hull work for both Santa Claus and Sopwith Camel!
Source:  Sopwith Camel. n.d. https://en.wikipedia.org/wiki/Sopwith_Camel (accessed December 25, 2018).