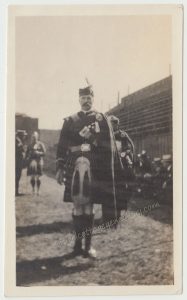 Old photo, white border. Circa 1920s.
Price:  $7.00        Size:  About 2 and 5/8 x 4 and 7/16″
I'm guessing this photo is from the 1920s, or maybe late 1910s, due to the look of the gentlemen in non-traditional wear. Where was the photo taken? That's a mystery, though if we could focus in on the big sign above the fence that could be a colossal clue (even if it's advertisement). And what was the occasion? Unknown, but maybe part of a Highland games festival. That's a sporran (purse in Gaelic) that the man wears below the belt, essential since kilts have no pockets.
Source:  Sporran. n.d. https://en.wikipedia.org/wiki/Sporran (accessed August 5, 2018).