See the prior post and our B. J. Stone trade card.
Donaldson Bros, circa 1872 – 1891
Donaldson Brothers was a very successful lithography and printing company which ran from about 1872 to 1891 before being consolidated with the American Lithographic Company. According to Frank's obit appearing in the weekly publication American Stationers, it was Frank who founded Donaldson Bros., and this may be correct, but we wouldn't want to assume, since this is a statement from one source. Our short write-up on this litho firm is just skimming the surface with a few details, as in-depth would be quite time-consuming. In any case, the firm was Frank J., George W., John L. and Robert M.,  all born in Edinburgh, Scotland of parents John Donaldson and Barbara Hume (Montgomery) Donaldson. The family emigrated to the U.S. in 1856. The 1860 Federal Census finds the family living in Brooklyn, NY. The 1878 New York City directory shows all four brothers as lithographers at the address of 2 Mission Place, New York, which was in the Five Points neighborhood in Lower Manhattan.
Below, Frank J. Donaldson's obituary appearing in American Stationer, June 1896.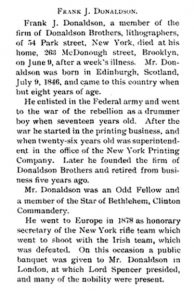 Below, a couple of clips from a lengthy article from the New York Times on the fire in Five Points that took place December 9, 1875, from which, of course, the company rebuilt (with improvements).
Sources:  Donaldson Brothers 1872 – 1891 "D – Publishers." MetroPostcard. (accessed November 4, 2017).
Trow's New York City Directory, 1878. Vol. 91, p. 356. (Ancestry.com).
Year: 1880; Census Place: Cranford, Union, New Jersey; Roll: 800; Family History Film: 1254800; Page: 201B; Enumeration District: 171. (Ancestry.com).
Sons of the American Revolution Membership Applications, 1889-1970. Louisville, Kentucky: National Society of the Sons of the American Revolution. Microfilm, 508 rolls. (Ancestry.com).
George William Donaldson. Find A Grave Memorial# 63258205. Findagrave.com.
American Stationer, Vol. 39. Number 24, June 11, 1896. p. 1012. (Google.com.)
"Fire at the Five Points." New York Times, December 10, 1875. Friday, p. 8. (Newspapers.com).