Vintage photo, white border, deckled edge. Circa 1940s – 1950s.
Price:  $1.00        Size:  About 4 and 1/4 x 3 and 1/8″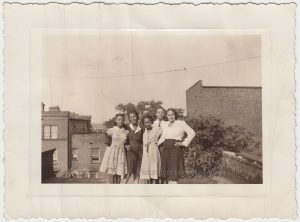 A beautiful vintage snapshot, albeit in rough shape, of an African-American family posing together on a rooftop. It was found on my recent Detroit excursion in an antique shop in Dearborn. No writing on the back, and Detroit could be the location, but just on the off-chance that the photo had not strayed too far. The time-frame is 1940s and '50s, a little hard to pinpoint without more detailed research. For one, we see girls' and womens' hemlines at the knee in both decades.