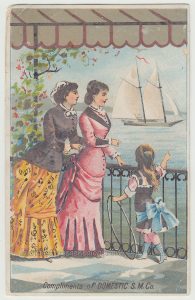 Domestic Sewing Machine Company trade card, circa 1880s – 1890s.
Price:  $7.00             Size:  3 and 1/8 x 4 and 7/8″
Here's a nice restful scene to gaze upon – and one of many trade cards to be found for the Domestic Sewing Machine Company. If you search old newspapers online look for them under the shorter version Domestic S. M. Co. Below, an early ad, from 1872. Love the line directed toward any non-Domestic sewing machine sales reps,  "It don't pay you to fight the best Machine."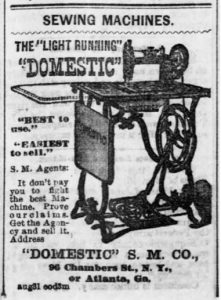 For detailed info on Domestic we found a good site for s.m. co.s (Getting into the spirit of the times, lingo-wise 😉  )
Domestic Sewing Machine Company
Sources:  "The 'Light Running' Domestic." Nashville Union and American. (Nashville, TN). November 17, 1872. Sunday, p. 2. (Newspapers.com).
"The Domestic Sewing Machine Co.". Fiddlebase.com. (Accessed August 3, 2019.)