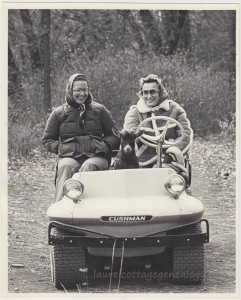 Black and white photo, circa 1950. Photographer:  Allan Rosenberg, San Francisco, California.
Size:  About 8 x 10″
Availability status:  SOLD
This vintage photo is from about 1950, and was found in a black wooden frame at a thrift store in Salinas, California; the store owner said that it had come to them by way of an estate sale. The photographer's stamp appears on the back, which indicates Allan Rosenberg, San Francisco. Likely the photo was taken in the general vicinity north of SF.
And what a lovely moment in time – in black and white and showing two laughing friends, riding in an all terrain Cushman vehicle, with the adorable pygmy goat "Lena Horne" who sits front and center as mascot or navigator!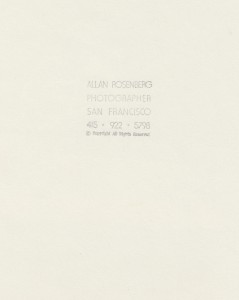 As a surprise, there was another studio photo (no photographer name) tucked behind the first one. It shows four gorgeous children, ages about one through seven; a family portrait taken maybe in the 1950s or early '60s, and likely the children of one of the ladies above. I am not posting the photo of the kids for privacy reasons. After all, whoever gave the "Mascot" photo away may not have realized that the other was underneath.
Last but not least, hundreds of online photos of vehicles bearing the Cushman name were browsed but none were found matching the model here. If anyone can identify the make, model and year of the Cushman, do please post a comment.