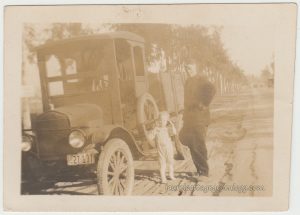 Old photo, circa 1920s, white border.
Price:  $4.00          Size:  About 3 and 5/16 x 2 and 3/8″
We're continuing our day-late Father's Day theme with a nice old photo, which we're guessing is from the '20s, but we'll find out – according to whatever make, model and year the truck turns out to be. The two gents here are maybe a dad with his young son of about three, standing next to their vehicle, on the dirt shoulder of a tree-lined road.
The next thing in binoculars….
So, it looks like there's writing on the inside of the truck, under the passenger side rear window, but we can't quite read it. And further scrutiny yields another "arrggh" moment, in trying to make out the words on the sign posted on the tree trunk to our left. (Actually you probably noticed the tree sign first, but whatev 😉 ) If you stare at these kind of things long enough you sometimes get a flash of insight into what they say. Those ah-ha! moments are soooo great. Though, I like the process of imagining (the journey is it's own reward, right?) having a pair of binoculars that works on old photos:  Just look through, adjust the dial, et voila!