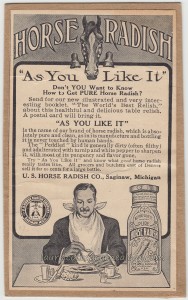 This is an old advertisement that someone had pasted on to a piece of cardboard, not in pristine shape due to the crease running across the middle, and I suppose due to the fact that it was pasted at all. The brand was called "As You Like It" and was made by the U.S. Horse Radish Co. of Saginaw, Michigan. As you can see it was advertised as  "absolutely pure and clean, as in its manufacture and bottling it is never touched by human hands."  Going on to say that the  " 'Peddled' kind was generally dirty (often filthy) and adulterated with turnip and white pepper to sharpen it, with most of its pungency and flavor gone."  This particular ad can be found in the July – December 1907 Life magazine. (I love the horse.) And 10 cents for a large bottle. Imagine!
Records were found from 1903 through 1912 for this company. The earliest being a U.S. Patent Office record shows an entry of   "40, 207. HORSERADISH. Julius C. Vogt, Saginaw, Mich. Filed Mar. 16, 1903  AS YOU LIKE IT  The words 'As You Like It.' Used since October 1902."  A 1904 factory inspection publication shows for April 14th, (only naming the city for the address) under the heading of "Sausage and mincemeat" for "Kinds of goods manufactured or handled" that they were employing 7 men, 4 women, and no one under age 16. The Polk's Saginaw City Directory for 1909 has a listing as follows:   "UNITED STATES HORSE RADISH CO,  Wallis Craig Smith Pres, J C Vogt Vice-Pres and Genl Mngr, Emil F Vogt Sec, Otto W Vogt Treas, Mnfrs and Producers of  'As You Like it'  Food Products, 219-223 N Water, Tels Mich 334, Val 554."  One of the 1912 references found shows a different address of 219 N. Tilden St. in Saginaw. This company sold many other products including sea foods, breakfast cereals, popcorn and peanut butter.
Reading the ad posted here brought up a funny childhood memory of Dad often making a joke that something was "untouched by human hands" if for example you were being passed something at the dinner table. But since Grandpa "Pappy" was born and raised in Saginaw, I wonder if this saying was something that had passed from father to son, having originated with the As You Like It horseradish ad. It's possible. This brings up the idea in general of those kind of "running jokes." What tickles us? What phrases do we hold on to for that reason, and even communicate with? And after storing up tons of phrases over the years, how many days in a row could you use only them (provided the person you're talking to is with you on all the jokes) to communicate with? A very small portion of the sayings flying around in my household are:  "The defense is wrong…I wore this ridiculous thing for you… the two 'yutes'…Does that thing come turbo-charged? Only on the floor models." (from My Cousin Vinny) "President Not Sure…idiocracy…Now back to you, Formica…We got this guy, Not Sure, and he's gonna fix all the problems in the world, and he's gonna do it all in one week." (from Idiocracy – and I may have that last line wrong, I'll update it later if needed) "Your vacuum cleaner ate my pants; there was nothin' I could do." (Pepsi ad with Dave Chappelle) "My room was filled with long-stem roses, my butler knew exactly how I took my tea, I was not to be awoken before 10 a.m., I think of this as a temporary exile."  (Celebrity? Lines Cruises)  "I'm outdoors you know…the clock on the wall says 3 o'clock…everybody funny, now you funny, too…Lord, she was lovey-dovey…That don't befront me, long as I get my money next Friday." (George Thorogood's version of "One Bourbon, One Scotch and One Beer")  "I see you T. Hunter" (or whoever has just made a great play, or gotten a big hit, from Rod Allen, Detroit Tiger baseball analyst)  "He's got summer teeth – some are there, some are not." (from Mickey Redmond, Detroit Red Wings analyst)….Along these lines, my friend and her sister have something they call "the funny list" – all the stuff over the years that they crack up over. Same friend and I crack up over two words – Donut Nation, the name of a donut shop.
But getting back around again to the subject of horseradish – check out Horseradish.org regarding the history of the root (aphrodisiac…back rub…cough syrup ingredient….growing wild in Boston by 1840…) and if you happen to be a fan of Regency Romance, you'll be interested in the following quote, "The English, in fact, grew the pungent root at inns and coach stations, to make cordials to revive exhausted travelers."  I'm picturing myself in the future, reading a Georgette Heyer or Clare Darcy novel, at the point where the characters have had to stop at an inn (during one of those zany travel adventures they keep finding themselves in) a cordial is handed to them (I'm thinking, "It's got horseradish in it!")
 Old advertisement, circa 1907.  Size including cardboard back:  2 and 3/4 x 4 and 1/2″

Price:  $5.00
Sources:  Life, Vol. 50. Mitchell, John Ames (ed.) (1907) p. 702. (Google eBook)
United States. U.S. Patent Office. Official gazette of the United States Patent Office, April 28, 1903. p. 2165 (Google eBook)
State of Michigan Twenty-second Annual Report of the Bureau of Labor and Industrial Statistics. Lansing, Michigan:  Wynkoop Hallenbeck Crawford Co., 1905. p.115 (Google eBook)
R.L. Polk & Co.'s Saginaw City Directory, 1909. p. 948. (Google eBook)
Ice and Refrigeration Blue Book. Chicago: Nickerson and Collins Co.,1911-1912. p. 221 (Google eBook)
Horseradish History. Web accessed October 17, 2014. [http://horseradish.org/horseradish-facts/horseradish-history/]