Divided back, used postcard. Postmarked October 5, 1910 from Calumet, Michigan. Publisher:  Yellow Front Curio Store, Houghton, Michigan. Made in Germany. Series or number:  E10586. Printer:  S L & Co.
Price:  $10.00
I had wanted to get this one up for Labor Day, but ran out of time…It shows a group of miners (and some children in the background) in front of what should be the #2 shaft of the Tamarack mine. The Tamarack ran from 1882 until it was sold in 1917 to Calumet & Hecla, the giant of a company that Tamarack had "drilled under" so to speak, to access part of the Calument Conglomerate, which had been one of the richest copper loads in the world. See the above link for a full explanation.
Teenage miners
Below, a photo taken at the Tamarack, said to be from 1905. The young men front left look to be in their teens still, maybe sixteen, or so. Out of curiosity, this led me to a quick look at the 1900 and 1910 Federal Census records for Calumet. The 1900 shows quite a number of fourteen to sixteen-year-olds, and even a twelve-year-old, Finnish immigrant, John Bortenen. By 1910, in Calumet, there are only two miners that are age sixteen or under from the census:  One of these two entries is for a young lady, fourteen-year-old Myrtle Boase, occupation miner, in the copper mining industry. (Interesting!)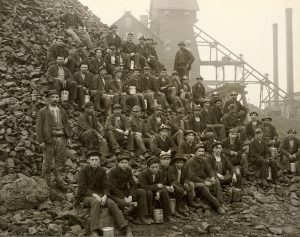 Getting back to the postcard – the sender wrote:
"Dear Isabel:  Did you send my little blue Spalding books? I called at Katerines to day and saw Anabel and Katherine. Please send any letters that come addressed to me dear. Father[?]"
Addressed to:   "Miss Isabel Farrand, 191 Albion St, Houghton Mich."
From the 1910 census for Houghton, Michigan, Isabel Farrand, is about twelve, daughter of Royal and Jessie Farrand. Was Royal a coal miner? No, his occupation is listed as physician. Anabel and Katherine are most likely cousins to Isabel:  Isabel's marriage record to Newton Wagner in 1922, Houghton, MI, shows that her mother's maiden name is MacNaughton. Annabel and Catherine MacNaughton, ages eight and twelve, respectively, are on the 1910 census in Calumet. They have an older brother, Archibald, age sixteen. The parents of the three are John and Rosella MacNaughton. John MacNaughton's occupation is superintendent at rock houses. And we note that Archie is not working, a testament to the fact that his dad's job brings in more income than a miner's wage.
Sources:  Tamarack. http://www.geo.mtu.edu/KeweenawGeoheritage/CalumetGeosites/Tamarack.html. (accessed September 8, 2017).
John Bortenen. Year: 1900; Census Place: Calumet, Houghton, Michigan; Roll: 714; Page: 8A; Enumeration District: 0174; FHL microfilm: 1240714. (Ancestry.com)
Myrtle I. Boase. Year: 1910; Census Place: Calumet, Houghton, Michigan; Roll: T624_646; Page: 27A; Enumeration District: 0105; FHL microfilm: 1374659. (Ancestry.com)
"File:TamarackMiners CopperCountryMI sepia.jpg." n.d. https://en.wikipedia.org/wiki/File:TamarackMiners_CopperCountryMI_sepia.jpg. (accessed September 4, 2017).
Michigan, Marriage Records, 1867–1952. Michigan Department of Community Health, Division for Vital Records and Health Statistics. (Ancestry.com)
MacNaughton family. Year: 1910; Census Place: Calumet, Houghton, Michigan; Roll: T624_646; Page: 15A; Enumeration District: 0104; FHL microfilm: 1374659. (Ancestry.com)