Divided back, used postcard. Postmarked June 26, 1915 from Long Island, Kansas. Publisher:  F. H. Langdon & Co., Denver, Colorado. Series or number 210.
Price:  $3.00
"Long Island, June 21.  Dear Cousin, how are you. am O.K. when the mud is dry. have you been boat riding. George and sis was over yesterday and said there was lots of folks boat riding along the river. they said there was four days that the folks couldnt cross. havent got over my corn yet the way it has been it will be a month I think. Come down and see the weeds they are doing well. As ever, J.K."
Addressed to:   "Miss Lena Davis, Calvert, Kan."
Long Island in this case is Kansas…And there's lots going on in this nearly 100 year old message, isn't there? It makes you think:  mud was a concern for walking or navigating through with any type of vehicle; if the river was high and there was no bridge, and the weather was inclement, then it would be difficult or maybe inadvisable to cross; planting the vegetable garden would be always a major concern every year, what was going on with the corn? But at least the weeds were doing well!
Update:  See the comment from a Garden of the Gods tour guide at the bottom of this post. This prompted me to research, and include below, the following article that appeared in the Great Falls Tribune (Great Falls, MT) April 22, 1942: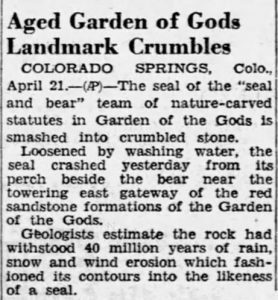 Source:  "Aged Garden of Gods Landmark Crumbles." Great Falls Tribune. (Great Falls, MT) April 22, 1942. (Newspapers.com).