"A Happy New-Year."
A heavily-embossed postcard of a poinsettia in a bed of holly and some forget-me-nots bordering a clock which is about to mark the new year. This card is from the Ethel Main Collection and kind of personal. Sounds like it's from her man, and he sure appreciates her and the fruitcake she sent him. Addressed to:
"Miss Ethel Main, 3622 – 18th Street, San Francisco, Calif."
As for the publisher, it's one we've not seen yet. It appears to show the initials T – I – C on a banner running round a globe.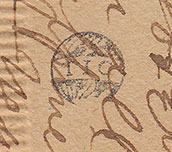 Divided back, embossed, postcard. Unused with writing. Circa 1907 – 1916. Printed in Germany. Publisher:  T.I.C.
Price:  $2.00