Set of three:  Two photos size:  About 2 and 1/2 x 3 and 1/4″  and 2 x 6″ and calling card.
Price:  $18.00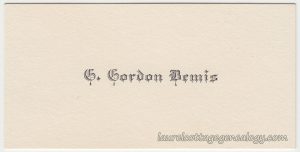 Three wonderful finds from Hollister, California:  Formal photography of George Gordon Bemis, as a boy in a sailor suit (name written in pencil on the back) and as a young man in a photo taken by the Bauter photography studio in Antigo, Wisconsin, and lastly, his calling card, showing "G. Gordon Bemis."
Much can be found online for George Gordon Bemis, born December 2, 1896 in Antigo, Wisconsin, including photos from college yearbooks, WWI Draft registration, census records and a detailed obituary on Find A Grave. The obit states he had married Mary Ross, they had one son, George, Jr., who like his father, became a doctor. G. Gordon Bemis graduated from Harvard with a degree in medicine in 1925. He died in the Bronx, New York October 31, 1982. Backtracking to 1910, the Federal Census taken in Antigo, Wisconsin, shows Gordon with his parents, George M. and Matie E., and sisters Grace M. and Mildred H. His father's occupation is listed here as timber inspector.
As for the photography studio, we see that it had belonged to photographer Fred W. Bauter, listed on the 1920 census in Antigo, born about 1870. We'll see if we can find more details for Fred Bauter in an upcoming post.
Sources:  Year: 1910; Census Place: Antigo Ward 1, Langlade, Wisconsin; Roll: T624_1718; Page: 7A; Enumeration District: 0039; FHL microfilm: 1375731. (Ancestry.com)
Fred W. Bauter. Year: 1920; Census Place: Antigo Ward 2, Langlade, Wisconsin; Roll: T625_1993; Page: 2A; Enumeration District: 109
Registration State: Wisconsin; Registration County: Dane; Roll: 1674749. Ancestry.com. U.S., World War I Draft Registration Cards, 1917-1918.
Find A Grave Memorial# 114936131. Findagrave.com. (accessed August 28, 2017).