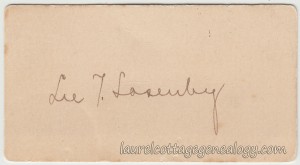 Calling card or business card. Circa 1900 – 1910s

Price:  $4.00          Size:  About 3 and 1/8 x 1 and 5/8″

A calling or business card estimated from about 1900 – 1910s; of the very plain but serviceable variety, of simply the handwritten name on a card of appropriate proportions. This was found in Salinas, California, in an antique store. It brings us around again to briefly musing on the unpredictability of finding (or not finding) corresponding records:  This name was a quick match-up, and without other likely possibilities showing up.
Lee Thomas Lasenby was born September 8, 1880 in Mason, Ingram County, Michigan; the son of Thomas Lasenby and Ella Haines. He married Mary L. Lee on August 9, 1905 in Mason. Lee Lasenby's occupation was Farmer on the 1918 WWI Draft Registration card and on the 1910 and 1920 Federal Census records. By the 1930 census he was listed as a Cattle Buyer for a stockyard. The city directories show that he also worked as the County Road Commissioner from at least 1927 through part of 1939. He died August 25th of that year, in Detroit. Per the 1920 census, Lee and Mary Lasenby had three daughters, Ruth, Margaret and Harriet.
Sources:  Registration State: Michigan; Registration County: Ingham; Roll: 1675755. Ancestry.com. U.S., World War I Draft Registration Cards, 1917-1918.
"Michigan, Marriages, 1822-1995," index, FamilySearch (https://familysearch.org/ark:/61903/1:1:FCXZ-NTC : accessed 28 April 2015), Lee F. Lasenby and Mary L. Lee, 09 Aug 1905; citing reference p 122, rn 1828; FHL microfilm 977,064.
Year: 1920; Census Place: Vevay, Ingham, Michigan; Roll: T625_771; Page: 3A; Enumeration District: 131; Image: 448. (Ancestry.com)

Lansing and East Lansing City Directories, Vol. 27, p. 492. Ancestry.com. U.S. City Directories, 1821-1989
Lansing City Directory, 1939, p. 311. Ancestry.com. U.S. City Directories, 1821-1989
Find A Grave Memorial# 38058306. Find A Grave. Web accessed April 27, 2015.