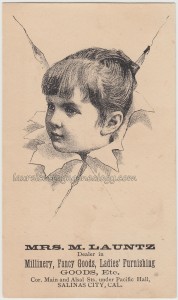 Antique trade card, circa 1890 – 1891.     Size:  About 2 and 5/8 x 4 and 1/2″
Price:  $15.00
This trade card is the first in a new category that we're labeling "Breakthroughs"  (for lack of a better term.) I've asked around at ephemera trade shows and antique stores, but so far, no one recognizes this type as belonging under a certain title. They show variations on people and animals "breaking through" the envelope or paper – sort of a "here I am, coming to you in the mail" type of thing. They seem to have been quite popular, and can be seen on trade cards like this one, and on old postcards or cards in general. We have a number of them here at Laurel Cottage that we'll be posting. On a similar note, check out an earlier offering entitled, "Into The Envelope" that has rather a "pre-breakthrough" theme, and another related one, "A Token Of Love."
Anyway, this one shows a charming drawing of a little girl's face, in semi-profile, advertising Mrs. Launtz's millinery:
"Mrs. M. Launtz. Dealer in Millinery, Fancy Goods, Ladies' Furnishing Goods, Etc. Cor. Main and Alsal Sts., under Pacific Hall, Salinas City, Cal."
That's the corner of Main and Alisal. The San Jose (includes Monterey County) city directory for 1890 – 1891 shows this proprietress as living at this same address. M. Launtz was not found in other online records, though likely she would have been found on the 1890 Federal Census if most of that had not been destroyed by fire in 1921. But what was Pacific Hall? I took a trip down to Old Town and inquired with the very knowledgeable Trish, at Destination Salinas. I found out that whichever building that had housed Mrs. M's millinery in 1890 and '91, no longer exists. (Damaged in the 1906 San Francisco earthquake? This is just speculation.) But per Trish, early Salinas fraternal organizations had dance halls, and these halls were located on the second, rather than ground, floor. So, one possibility is that Pacific Hall was one such fraternal upstairs dance hall, with Mrs. M. Launtz's millinery located just below.
More from the 1890 – 1891 city directory
Going page by page through the same 1890 – '91 city directory lent a little more info:  Mrs. M. Launtz had two single ladies working for her as milliners – Miss Emma Benjamin and Miss Emma Gibson, address given as corner of Main and Alisal (however it is unclear whether this was the girls' residence also, or just M. Launtz's.)
An entry under "Baptist Church" gave the address as corner of Main and Alisal.
The Jeffery House, illustrated below, showed up for various residents as both a business and residence address. One would think that if Mrs. M. and the others at Main and Alisal were located at the Jefferey House, that the listings would be stated as such. So, it would seem like the millinery was not in this building, but of course, we can't be sure.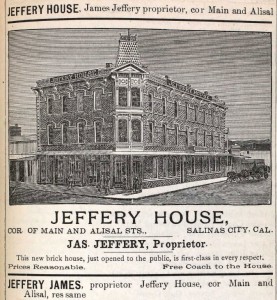 One more very interesting tidbit from the directory was listed under "Agricultural Hall" corner of Main and Alisal. Hmmm, Pacific Hall and Agricultural Hall…intriguing!
Sources:  San Jose City Directory, Including Santa Clara, Santa Cruz and Monterey Counties, 1890-1891. pp. 760-761, 769, 773-774, 776. Publisher:  F. M. Husted, San Francisco. Web accessed April 4, 2015. (Ancestry.com. U.S. City Directories, 1821-1989)
Sullivan, Trish. Per web author's visit to Destination Salinas, 222 Main St., Salinas, CA. April 4, 2015.
Jeffery House/Salinas. TC-303489; K-62. Token Catalog. Web accessed April 5, 2015.