Cabinet Card, circa 1896. Photographer:  Duryea, Brooklyn, New York.
Price:  $20.00
Cabinet Card showing a beautiful photo of young Frederick Russell Pope, estimated age about four years old, taken by the Duryea photography studio, Brooklyn, New York. Russell was born May 25, 1892, in Brooklyn, according to his passport application made twenty-three years later. He is dressed and with hairstyle in the mode of the day, when it was common for young boys to be outfitted in what we today would just think of as girls' clothing, and with longer haircut, shoulder length in this photo. The outfit is a plaid, pleated skirt; white blouse with scalloped lace edging, a ruffled collar and cuffs that turn up as far as the elbow; and a large light-colored plaid ruffled bow at the neck.
Here is Russell's photo from his passport application:  a handsome young man at age 25. The passport shows his residence as 412 Avenue C, Brooklyn; that he was applying for the passport to travel to Germany and Switzerland, to reside abroad temporarily for about a year; and that his occupation was "Student & Teacher."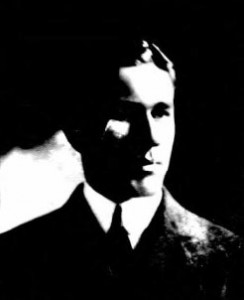 Russell's parents are William Pope and Annie Long, both born in England. He married M. Irene Decker, and he died July 16, 1940 in Greensboro, North Carolina, at age 48 (always sad to see the death certificates of people we feel we just got to know slightly through their photos, especially when the person dies young or relatively young.) The death cert shows he was a teacher, and residing at Guilford College, NC.
The 1930 Federal Census for White Plains, NY shows Russell, wife Irene and their three daughters, Ethel, Virginia and Joyce. Russell's occupation on this census is Professor at "New York University" which may not have been the actual university name.
As to the photographer, there is more than one possibility for this last name in Brooklyn. We'll do more research and update here asap.
Sources:  National Archives and Records Administration (NARA); Washington D.C.; NARA Series: Passport Applications, January 2, 1906 – March 31, 1925; Roll #: 277; Volume #: Roll 0277 – Certificates: 11501-11900, 20 Nov 1915-30 Nov 1915 (Ancestry.com)
North Carolina State Board of Health, Bureau of Vital Statistics. North Carolina Death Certificates. Microfilm S.123. Rolls 19-242, 280, 313-682, 1040-1297. North Carolina State Archives, Raleigh, North Carolina. (Ancestry.com)
Year: 1930; Census Place: White Plains, Westchester, New York; Roll: 1666; Page: 2A; Enumeration District: 0370; Image: 408.0; FHL microfilm: 2341400