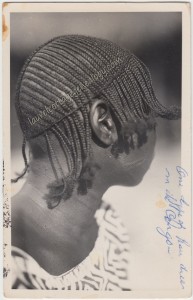 Real Photo Postcard. Black and White. Circa 1957. Photographer:  Casimir Zagourski.
Price:  $45.00
This is a postcard that was sent from Saratoga, California, postmarked October 29, 1957. To protect the receiver's privacy, the back of the postcard which shows the address, is not included here. The sender's writing on the side states,  "One type of hair dress in the Congo."  It is assumed that this photo was taken in the Congo, because of the sender's remarks, but there is no description on the back of the postcard. It is possible that the sender had traveled to the Congo and sent the postcard upon his or her return to the United States but we would not know that for sure; there is no indication in the writing on the back, and no way to research the sender as it is signed with  "love from a friend."  The photographer's stamp on the back appears to read as:  "C. Zagourski   Photographie. Léopoldville – Congo (Belge) Reproduction Interdit." (Most of the stamp is readable)
Research shows this photographer is Casimir Zagourski. (1883 – 1944) Casimir, the son of a Polish nobleman, was born Kazimierz Zagórski, August 9, 1883 in Zytomierz, Ukraine. After serving in the military, he headed for the Belgian Congo (now the Democratic Republic of Congo.) He established a studio in Léopoldville in 1924, and ran this until his death in 1944, selling photographic albums and postcards and making expeditions to photograph and record on film, other areas of Africa including Kenya, Rwanda,Tanzania (Tanganyika) and Uganda. He recognized that he was capturing a way of life in Africa that was disappearing, as evidenced by the title he gave to a grand body of work: L'Afrique Qui Disparait. His work was viewed in Paris at the Colonial Exhibition in 1937, and he won a gold medal, the grand prize at the 1937 International Exhibition at Brazzaville. These are just a few simplistic facts included here with this post, however the life of this influential photographer has been written about by author Krzysztof Pluskota, and appears in the book entitled In and Out of Focus: Images from Central Africa, 1885-1960 edited by Christraud M. Geary.
For this blog's author, this postcard is yet another example of how research on one photo, one postcard, one trade card, one whatever, is like opening a door to a whole other world. Check out the incredible collections online in the Yale postcard collection and Gallery Ezakwantu.
Sources:  Geary, Christraud M. (Ed.) (2003) In and Out of Focus: Images from Central Africa, 1885-1960.  London:  Philip Wilson Publishers. (Googlebooks)
Gallery Ezakwantu (www.ezakwantu.com)
Yale University, Casimir Zagourski Postcard Collection (www.library.yale.edu)