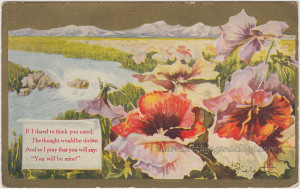 At this time, postcards for this artist are often showing up on other sites under "T. Bioletto" so if you are looking for other examples, be sure to try searching with the incorrect first initial or just under the last name. (Updated May 2, 2015.)

The above image with reverse side was recently posted under "Pansies."  The artist's signature can be seen on the bottom right of the postcard. The first initial or initials are hard to read but appear to be "B" or perhaps "B.B."  After some extensive online searching under different possibilities for the initials (and even under a last name variation of Bieletta) I believe that the artist for this card (and quite a few others for sale or view online with this signature) is Benedetto Busetto Bieletto, born in Venice, Italy, November 4, 1869. The index card for his naturalization in the U.S. shows his date and country of birth; arrival in the United States as February 1, 1909; address at time of naturalization as 147 Oak St., Chicago, IL; and witnesses as Charles Reinach of 3726 Herndon St., and Michael Keber of 2135 N. Clark St.
There are a couple of references in the American Art Annual, one of which shows Bieletto's city of birth as Venice.  The 1915 journal (under the heading of Who's Who In Art), shows "Bieletto, Benedetto B.,  147 Oak St., Chicago, Ill. (P.)"  The "P" is for painter. And the 1918 shows,  "Bieletto, Benedetto Busetto, 3245 Broadway, Chicago, Ill. P.- Born in Venice, Italy, Nov. 4, 1869. Pupil of Pompeo."  As to Pompeo, I was not able to find someone who would have been a contemporary of Bieletto under this name, so I believe this to be a reference to Pompeo Batoni (1708 – 1787), and that Bieletto studied the painting style of Pompeo:  being "a student of" rather than "a student under" him.
The 1920 Federal Census taken in Chicago, shows B. B. Bieletto, born in Italy of Italian-born parents; married (wife not on this census); address 2220 Calumet Ave; immigration to the United States about 1909; and the key piece of information:  artist for a photoengraving company.
So, where else should we look for more information? Perhaps the witnesses on the naturalization card will provide some help, as we might assume that one or both of these gentlemen may have worked with Bieletto, and from this maybe we can find Bieletto's employer name, and verify that Bieletto had something to do with postcards.
Thankfully, Charles Reinach, born IL about 1869, shows up on the 1920 census in Chicago at the address of 3742 Herndon (close enough – he may have moved or the street number changed) and under the occupation of engraver, working at Chicago Eng. Co. (Chicago Engraving Company.) From this we'd assume this was either the name of the company or just the description set down by the census taker….With further research we learn that this is the actual company name, as it is found in various online references for photoengraving, and in a 1913 publication for railroad telegraphers, which lists photoengraving companies and shows the address of 533 Wabash Ave., Chicago. To add a little more weight to the photoengraver/postcard connection, the well-known postcard printer Curt, Teich & Co. is also listed there. So anyway, it's likely that Bieletto also worked for the Chicago Engraving Company, at this time. A good description for photoengraving can be found in the excellent cycleback.com website, see last source below. Interestingly, Charles Reinach's occupation on the 1930 census shows as illustrator for a label maker, so it looks like both Bieletto and Reinach were artists.
Michael Keber, the other witness to Bieletto's naturalization, was found online but nothing showing relating to the photoengraving or postcard business. Keber, born Austria 1857,  became a naturalized citizen in 1913. The address on that record is the same as he records for himself on Bieletto's record.
Looking further, we discover a Benedetto Bieletto mentioned along with two other Italian artists, Beppe Ciardi and Leonardo Bazzaro, in a German art journal, (thank goodness for online translation) in reference to their work showing Venice and the surrounding area. This publication is dated 1907, before Bieletto emigrated, and since he was born in Venice, it's an excellent possibility that the artist mentioned there, and ours in question here, are one in the same.
Sources:   Levy, Florence N. (ed.) 1915. American Art Annual, Vol. 12. p. 324.  (Google eBook) 
Levy, Florence N. (ed.) 1917. American Art Annual, Vol. 14. p. 427. (Google eBook) 
Year: 1920; Census Place: Chicago Ward 1, Cook (Chicago), Illinois; Roll: T625_306; Page: 8B; Enumeration District: 42; Image: 273. (Ancestry.com)
Year: 1920; Census Place: Chicago Ward 25, Cook (Chicago), Illinois; Roll: T625_343; Page: 10B; Enumeration District: 1500; Image: 491. (Ancestry.com)
Year: 1930; Census Place: Chicago, Cook, Illinois; Roll: 488; Page: 1B; Enumeration District: 1695; Image: 4.0; FHL microfilm: 2340223. (Ancestry.com)
National Archives and Records Administration (NARA); Washington, D.C.; Soundex Index to Naturalization Petitions for the United States District and Circuit Courts, Northern District of Illinois and Immigration and Naturalization Service District 9, 1840-1950 (M1285); Microfilm Serial: M1285; Microfilm Rolls: 15 and 92. (Ancestry.com)
The Railroad Telegrapher, Vol. 13. 1913. St. Louis, Missouri. The Order of Railroad Telegraphers. p. 1665. (Google eBook)
Die Kunst. Monatshefte Für Freie und Angewandte Kunst. Fünfzehnter Band. München. 1907   Verlagsanstalt F. Bruckmann A. -G.  (editor?)  p. 469. (Google eBook)
http://en.wikipedia.org/wiki/Pompeo_Batoni
http://www.cycleback.com/photoguide/digi.htm