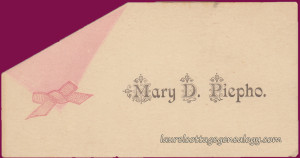 Calling card for Mary D. Piepho, found in the Central Coast area of California. The lettering and stylized scroll work around the capital letters are beautiful, and a close-up look of the pink bow and "folded over" area reveals surprising details of the grain in the ribbon (or perhaps they are stripes) and the fabric-like fringe on the edges of the corner fold.
The woman that carried this calling card is possibly the same person that appears in the Illinois death index, born in Dyer, Indiana 1867, married to Henry Witte and died in Blue Island, Illinois 1943. If this is the correct person, then she married Henry in December of 1888, so this calling card would be from about 1883 – 1888. As of the date of this post, no one else was found under the name of Mary Piepho with the middle initial "D" and while there's no certainty of having found the correct person, this Mary Piepho is the most probable.
Size:  About 1 and 3/4 x 3 and 3/4″  Circa:  1883 – 1888
Sources:  Year: 1870; Census Place: Hanover, Lake, Indiana; Roll: M593_333; Page: 387A; Image: 513; Family History Library Film: 545832. (Ancestry.com)
Year: 1880; Census Place: Hanover, Lake, Indiana; Roll: 291; Family History Film: 1254291; Page: 586B; Enumeration District: 073; Image: 0586. (Ancestry.com)
Lake County Indiana; Index to Marriage Record 1850 – 1920 Inclusive Vol, W. P. A. Original Record Located: County Clerk's O; Book: E; Page: 303. (Ancestry.com)
Ancestry.com. Illinois, Deaths and Stillbirths Index, 1916-1947 [database on-line]. Provo, UT, USA: Ancestry.com Operations, Inc., 2011.