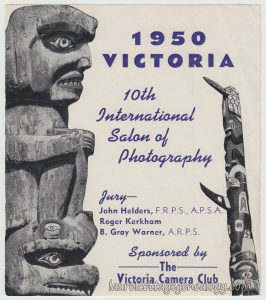 Print of notice of photography show, October 1950.
Price:  $4.00            Size:  4 and 1/8 x 4 and 3/4″
A third in a short totem pole theme, an ad for the 10th International Salon of Photography that was probably one of many that were printed and handed out around town, at the event, or both. According to the article below, from The Victoria Daily Times, the show had both a color and black and white section. The color slide show included  "exhibits of photographers from many parts of the world"  featured 187 slides and was held in the Esquimalt Community Hall on Sturdee St., in Esquimalt Township, British Colombia.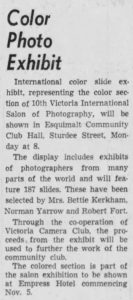 And on the back of the ad there appears the following, a signature? which was darkened in Photoshop. Was it from anyone famous in the photography world? (Just kidding…..or maybe not.)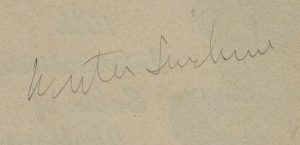 Source:  " Color Photo Exhibit."  The Victoria Daily Times. (Victoria, British Columbia) October 28, 1950. Saturday, p. 22. (Newspapers.com)