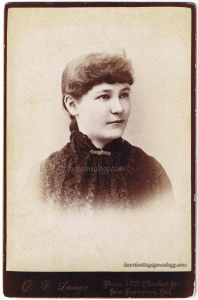 Cabinet Card, circa 1887. Photographer:  Oscar V. Lange, San Francisco, California.
Price:  $7.00
A cabinet card photo of a beautiful young woman, possibly sprucing up her look for the camera with the beautiful lace fichu that she wears over her dress; note also the brooch or neck pin fastener. Photographer Oscar V. Lange (1853-1913), 1025 Market St., San Francisco, California shows in the city directory at this address in 1887. Besides being known as a prominent West Coast photographer, Lange also painted landscapes.
Sources:  Oscar V. Lange. n.d. https://en.wikipedia.org/wiki/Oscar_V._Lange (accessed September 27, 2014).
Langley's San Francisco Directory, 1887. p. 1370. Ancestry.com. U.S. City Directories, 1822-1995.