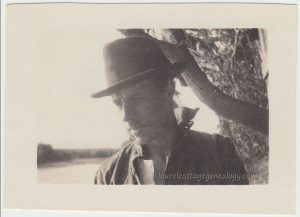 Old photo, white border. Circa 1920s – 1930s.
Price:  $5.00          Size:  About 2 and 13/16 x 2″
Sometimes we look at a photo of someone and we totally forget that they were not alone at the time, since, well duh! the person holding the camera was also there. This is one such for me. I think of this guy as a dad, having a few moments alone, but as always, engaged in the welfare of his family, the upkeep of which is often not easy…..