Divided back, Real Photo Postcard. Unknown manufacturer. Circa mid-to-late 1910s.
Price:  $7.00
This is a late post for Father's Day (surely there is a dad in this photo). Late since I was out of town for a week, and just getting back to LCG this morning. And what to name this one? I was struck by the variety of poses in this group of five men and one small boy, posing for the camera on their (or somebody's) front lawn. I love the formidable stance and gruff expression on the gentleman in the rear – with the overalls, the mustache and the arms akimbo. As for the time frame, one of the best clues for dating this image should turn out to be the vehicle in the background (cropped and inserted below). Is it an electric car or a delivery wagon minus the horse? Hmmm, really not sure, but help should be forthcoming.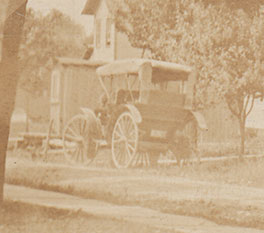 Going back to the top image:  that particular style of hat for the young man on our left, too…a newsboy cap? Note his use of sleeve garters and the skinny tie. We can also see that the shade trees, at least on this side of the street, are maple. And last but not least, under one of these maples, stands a little girl wearing a big hair bow, looking on.
One final thought for now….I love the bird-like shadow that has graced this photo, highlighted below, with the big wing out-stretched and the tail feathers….like a hawk or a thunderbird…or even a dove….