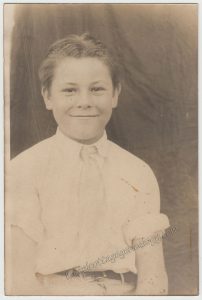 Old photo, circa 1930s – 1940s.
Price:  $4.00        Size:  About 4 x 6″
I love this photo – such a charming kid! No name, location or date on this one either (like the last post) so no hope to trace a name to a current family, but still, impossible to resist. It was found either at one of the paper shows my friend and I like to frequent or at an antique store, loose in a bin. The time frame's a guess of 1930s or 1940s. Besides that very engaging smile, I like the way he's off center in the photo, the rolled up sleeves, the somewhat slicked up hair for the photo (nice style, very GQ) and the tie, slightly askew.