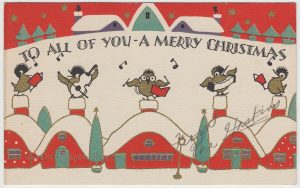 Vintage Christmas Card, circa 1920s – 1930s.
Price:  $5.00        Size:  5 and 1/4 x 3 and 1/4″
"To All Of You – A Merry Christmas"
Five birdie musicians – singing and playing the cello and accordion, with the maestro directing – are spreading joy from atop snow-covered chimneys. The gold-tone in the card is of the type that has that sort of a shimmer to it, so the actual card is even nicer than the scanned image. And it was signed,  "From The Haskins"  but the same wish applies from us here at Laurel Cottage to you!