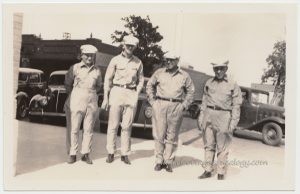 Old photo, white border. Circa 1937.
Price:  $2.00      Size:  5 and 1/2 x 3 and 1/2″
This photo was found in Michigan but where it was taken is unknown. The license plates don't appear to be Michigan plates, and we're looking around the year 1937, as the two cars in the middle should be 1937 Ford Sedan Delivery models. Here's some examples below from a Google image search. You can see the distinctive grill and side vents, and the teardrop-shaped headlights. The car on the far left in our photo may be something different, and we didn't research the one on the right. But the four guys (nice smiles!) clearly work for the same outfit, wearing their uniforms and company hats. And we can almost make out the sign on the building behind them. That second word is Storage, so the building must have housed some type of storage company, or showed an ad for one. (This was just to see if we could find any clues for the location of the photo, and it would be one, a good clue that is, if we could just figure out that first word, arrrgg! 😉 It looks like it starts off H-o-t-k-k? ) But don't the two guys on our right look like they might be brothers?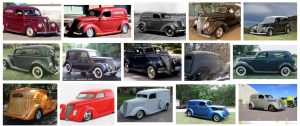 Source:  "Ford Sedan 1937 Delivery." Google.com image search. Accessed July 16, 2017.