Two pals in Newsboy caps, skinny tie, bow tie and sweaters
Our guy from the top left, looking distinguished and contemplative, with pipe
Divided back, Real Photo Postcards, unused. Cyko stamp box. Circa 1910.

Price for the set of two:  $35.00
I had just spent a ridiculous amount of time comparing these two images to see how they were done. 🙂 Looks like the charming lake scene of an attractive young woman on a lake, with a partial border of lilies (very Art Nouveau) is the same size on both cards, one being just the reverse of the other. The shaped border, however, is slightly larger on the second postcard, so that part must have involved a separate process, then, of course, arranging the trimmed photos in the border would be next….but why dissect? The end result is beautiful and unusual, and possibly two-of-a-kind.
One can't help but look for an artist name though, and in so doing might imagine seeing a signature (John something) in the shadow of the oar (top image) but a name glimmering on the water, so to speak, could just be coincidence.
As for time-frame, I'm guessing late 1900s to mid-1910s, in looking for men's narrow necktie style, women wearing neckties, Art Nouveau, etc. There do not seem to be many examples of women in neckties in the 1900s – 1910s, and that was surprising. But here's one below in the bottom right corner from a Google search for the popular British actress, Madge Crichton:
Mostly Madge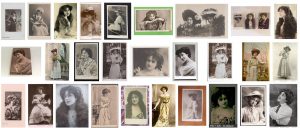 A 1910 advertisement from The Marion Star: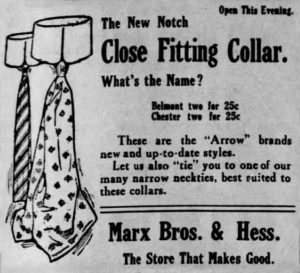 Sources:  Art Nouveau. n.d. https://en.wikipedia.org/wiki/Art_Nouveau (accessed July 1, 2017).
"Images for old postcards Madge Crichton."  Google search, July 1, 2017. Google.com.
Marx Bros. & Hess collar and necktie ad. The Marion Star, (Marion, OH) May 14, 1910. Saturday, p. 7. (Newspapers.com)