Divided back, Real Photo Postcard. Postmarked July 8, 1907 from Los Angeles, California.
Price:  $12.00
" 'Next to Nature.'  Got your cards. B.J."  Addressed to:
"Harry W. West. Inglewood, Cal."
Had this card not already have been captioned (love it, thank you!) by the sender, I think I would have given it the title:  "What We Were Wearing In 1907"  as it seems a nice example of some varying styles in women's fashion. And aren't they beautiful…these five friends posing and smiling for the camera, seated on a stretch of lawn, on a sunny July day.
Addressee, Harry W. West is most likely the person named as such on the 1910 Federal Census for Pasadena, born Iowa about 1887, of Swedish-born parents, occupation driver with an ice company; spouse Freda L. West, born Sweden, about 1887. From an Ancestry.com family tree, Freda's maiden name is stated as Lundgren. Below, a crop from the 1909 Pasadena city directory, showing Harry West, employee of the Pasadena Ice Co., residence 988 Glen Ave.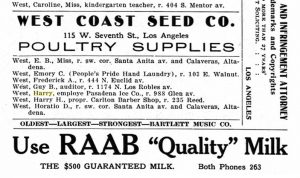 Sources:  Year: 1910; Census Place: Pasadena Ward 5, Los Angeles, California; Roll: T624_86; Page: 15B; Enumeration District: 0315; FHL microfilm: 1374099. (Ancestry.com)
Thurston's Residence and Business Directory of Pasadena, 1909-1910. p. 357. Ancestry.com. U.S. City Directories, 1822-1995.