Trade Card, Gananoque Motel and Cabins, 1945 – 1958.
Price:  $10.00        Size:  About 3 and 1/4 x 2 and 5/8″

Are there many trade cards for this 1950s era motel still floating around today? Maybe a family member has a stash somewhere, and one would assume others must have survived. After all, it was only about sixty years ago. But, at the time of this post, we see no others online.
To get our bearings, for those of us unfamiliar, Gananoque is a small town on the St. Lawrence River, about a half hour's drive north, up Highway 2 from Kingston, Ontario.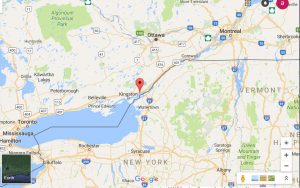 The reverse of our card reads:
"Souvenirs, Fishing Licences. Phone 517W. Gananoque Motel And Cabins. Highway No. 2 – Just East of Eastern Gateway. Gananoque, Ontario, Canada. Completely Modern Motel. Private Conveniences in Cabins. Lunch Room and Gas Station on Premises. Prop. Agar & Rombough. Box 402 – Gananoque. Our Motto:  It's a Pleasure to Please."
G. S. Agar and D. A. Rombough were mentioned in The Ottawa Journal as part of group of honorees of the dealers of the Ottawa Division, Supertest Petroleum Corp., Ltd., who qualified for Long Association Awards in 1952 and again in 1957.
Erin Christie's article (December 2008)  "End of an era for Country Squire"  filled in some details for us:  Stanley Agar and Donald Rombough's Gananoque Motel was in business about thirteen years, and was,  "…10 small cabins in a horseshoe, five motel rooms, a gas bar and a snack bar"  when it was sold in 1958 to Warren, Rita and Wayne Gollogly, who renamed it the Cloverleaf Motel. The rest is history for the Gollogly Family who expanded the business into what became the Country Squire Resort and Spa (now under Best Western.)
Sources:  Gananoque. n.d. https://en.wikipedia.org/wiki/Gananoque. (accessed March 26, 2017).

"Supertest Dealers Honoured."  The Ottawa Journal. Saturday, April 26, 1952. p. 27. (newspapers.com).
"Receive Supertest Awards."  The Ottawa Journal. Wednesday, April 10, 1957. p. 19. (newspapers.com).
Supertest Petroleum. n.d. https://en.wikipedia.org/wiki/Supertest_Petroleum. (accessed March 24, 2017).
Christie, Erin. "End of an era for Country Squire." December 18, 2008. (www.gananoquereporter.com). Accessed March 26, 2017.