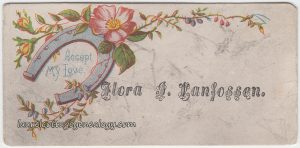 Victorian Era Calling Card, circa 1893
Price:  $7.00         Size:  About 3 and 3/8 x 1 and 5/8″
A lucky horseshoe, a spray of single-petaled pink roses and love….
This card appears to have been made for the Miss Flora J. Van Fossen, born Worcester, Pennyslvania, August 21, 1876, daughter of Josiah Van Fossen and Sarah Louise Jones. Flora married James Stroh January 5, 1894 in Camden, New Jersey. The marriage index record shows "Stroak" as the groom's surname, no doubt a transcription error when viewing the original.
Sources:  "New Jersey, Marriages, 1670-1980," database with images, FamilySearch (https://familysearch.org/ark:/61903/1:1:FZ2S-B31 : 31 March 2016), James R. Stroak and Flora J. Vanfossen, 05 Jan 1894; citing Camden, Camden, New Jersey, United States, Division of Archives and Record Management, New Jersey Department of State, Trenton.; FHL microfilm 495,719.
Pennsylvania Historic and Museum Commission; Pennsylvania, USA; Certificate Number Range: 004651-007200. Ancestry.com. Pennsylvania, Death Certificates, 1906-1964.