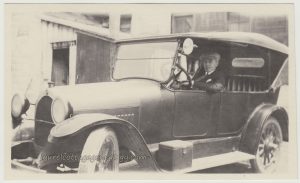 Old photo, man in Oldsmobile, circa 1917.
Price:  $5.00         Size:  5 x 3″
Youngish gentleman in suit, tie and Newsboy-type cap, posing for the camera in a circa 1917 Oldsmobile. (We presume it's his. He looks proud.) That would likely be the toolbox that is resting on the running board. The shape of the rear window seems uncommon:  like a long, narrow rectangle with the edges rounded off, we're not seeing an exact match online.