Old photo, Philippines, 318 San Andres Street, September 1948
Price:  $15.00             Size:  About 3 and 1/4 x 4 and 1/2″
You never know where an old photo will take you….
In this case we've traveled to September 1948, San Andres Street, to what most certainly has to be Malate, Manila, Philippines. The key to the country of origin is the distinctive window shade design, similar to those appearing below from a Google search re "Philippines old photos of windows."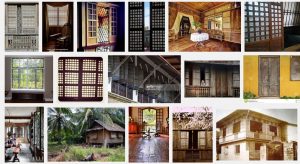 But even better:   One of postcard collector David Montasco's snapshots, via the Google website Panoramio, titled San Andres Street bahay na Bato 2014, gives us a storefront view on San Andres Street sixty-six years later.  No, it's not our 318 address but it could be close by. (The difference 66 years has made to San Andres Street, Malate, Manila, Philippines….there's a fascinating topic all by itself. How many different viewpoints does the contrast conjure up? For me, overwhelming beauty – life on this planet.) And what a great shot….the colors, the old street light, the conglomeration of wires, the tin roof, etc. Love it.) Anyway, in addition to focusing on the window shades, you can see similarities in the two storefront facades. And, I don't know about you, but I'm comparing the pose and look of the young man in our black and white photo in the window, top left, and the guy in 2014 behind the pop bottles and motorcycle. Wow, wouldn't it be something if they were actually related? (I'm hearing some scoffs, chuckle.) Well, stranger things have happened.
But back to the old photo…
Tining's Dry Cleaners (and) Laundry was not found from our vantage point of online searches, but likely there's more info to be had out there somewhere, an old directory, or maybe someone who remembers their parents or grandparents mentioning this dry cleaners. But if we could only read the cursive writing underneath "Cleaners Laundry" ….is that the proprietor's name or is it something in Tagalog? As per the norm with these elusive types, you can almost make out the wording, but argggh! not quite. Then there's something else printed there in white, at the bottom. And, last, but not least, the back of the photo shows:
"x marks my Room at 318 San Andres   Sept 1948."  Ahhh, the memory of place, captured forever in time.

Sources:  Google search for "Philippines old photos of windows." (accessed June 18, 2016).
Montasco, David. "San Andres Street bahay na Bato 2014." http://www.panoramio.com/photo/113277366. (accessed June 18, 2016).