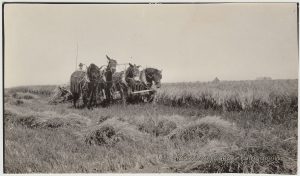 An old photo, circa 1900s to 1920s, of a farmer behind a team of four (hard-working!) horses pulling a grain cutter-binder machine. That's a riding crop the farmer is holding. And that looks like a lot of heavy equipment the horses are strapped into, but the fringed-type back covers are fly nets, to help keep the flies off of the sweating horses. From the 1901 newspaper ad below, it appears that the leather strips in the netting were called lashes.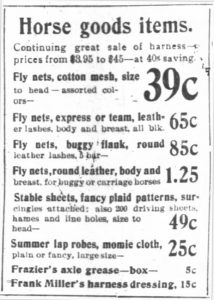 Here's a YouTube video of a tractor-pulled McCormick Deering Antique Wheat Binder in action. The machine cuts the grain, gathers it, and binds the bundles with twine, leaving the bundles to be picked up later to be taken off for the threshing process.
Price:  $10.00
Size:  About 5 and 1/2 x 3 and 1/4″     Condition:  Good except there is a small tear at the top.
Sources:  "Horse goods items." Chicago Daily Tribune. June 30, 1901. Sunday, p. 49. (Newspapers.com)
Taylor, C. [ctaylor9919]. (July 3, 2009). McCormick Deering Antique Wheat Binder. [Video File]. Retrieved from https://www.youtube.com/watch?v=ubG4YVzyzOE.