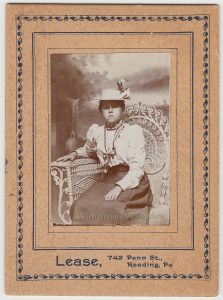 Old photo on cardboard frame. Circa 1900 – 1901. Photographer:  Ammon M. Lease.
Size including cardboard frame:  3 and 7/16 x 4 and 11/16″
Price:  $10.00
Here's a portrait of someone about teenager age, a young girl right at the turn of the last century, in skirt and blouse and wonderful hat, posing in a beautifully ornate, but common for the time-period, wicker photographer's chair.
Lease is Ammon M. Lease, photographer, who was listed at the address of 742 Penn Street in 1900 and 1901. Below, from the 1901 Reading city directory, and this seems a little unusual, there are eight photographers on Penn St., who all must have been fairly close to one another, per the street numbers.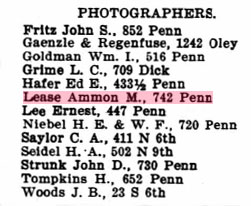 Sources:  W. H. Boyd & Co.'s Directory of Reading, 1900. p. 58. (Ancestry.com. U.S. City Directories, 1822-1995.)
W. H. Boyd & Co.'s Directory of Reading, 1901. p. 60. (Ancestry.com. U.S. City Directories, 1822-1995.)