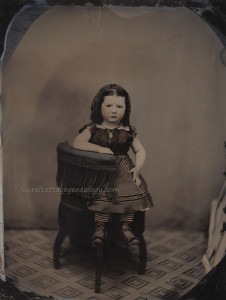 Tintype, circa 1869.
Price:  $20.00           Size:  8 and 1/2 x 6 and 1/2″
Large tintype of the adorable Margaret Jane Cunningham, age three. By her expression, Margaret Jane was none too happy to have had to pose for the photographer. Our subject's dark hair is styled in ringlets, and she wears a cute short-sleeved dress ornamented with two appliquéd ribbons running parallel to the hemline; another set running vertically up to the bodice; with the sleeves also showing the same ribbon appliqué. In addition, the sleeves show some type of ornamentation as if to gather them somewhat from the sleeve hem to the ruched neckline. A hairband, necklace, striped knit pantaloons and the high laced shoes of the day complete the ensemble. Our subject's cheeks show a delicately hand-tinted rose color, and you will also notice that the necklace has been tinted gold. This image was likely taken in a studio, as the fringed chair was a popular seating place for photographer's subjects for some years. You will also notice that this tintype must have been displayed in an oval frame for quite some time, per the darker oval-shaped coloration in the center. It was found in a lovely silver-colored wooden frame. The age of the frame is unknown, but it is possibly not all that old.
Happily, we know from the back of the image, that Margaret Jane grew up, married and had children and grandchildren (or at least one of each), as "Grandma Setzer" is scrawled in pencil on the dark cardboard frame back. The other writing on the back of the frame shows "Margaret Jane Setzer." And "age 3" is written on a piece of masking tape that is attached to the back of the tin type. The California Death Index, 1940-1997 shows a Margaret Jane Setzer, born Illinois, October 26, 1866, and died December 4, 1954, at the age of 88, in Santa Clara (possibly Santa Clara County) California. The record shows her mother's maiden name as Allen and father's surname as Cunningham. It's not possible to say for sure if this is the right record, especially without the image notating the place taken. However, online searches are not pulling up anything else as a major possibility, so this record would seem to be a really good bet. If it is correct, it would mean that this tintype is from about 1869, which does fit perfectly for the style of clothing and the use of the fringed chair. The other really major consideration is that the grandchild wrote "Grandma Setzer" which seems to indicate that Setzer was Margaret Jane's married name. Lastly, this tintype was found on the Central Coast area of California, so it wouldn't have had to travel far, from the estate sale that it may have come from.
Source:  Ancestry.com. California, Death Index, 1940-1997 [database on-line]. Provo, UT, USA: Ancestry.com Operations Inc, 2000. Original data: State of California. California Death Index, 1940-1997. Sacramento, CA, USA: State of California Department of Health Services, Center for Health Statistics.