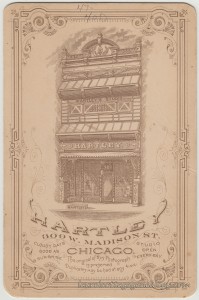 We love these photo studio illustrations with the studio name appearing multiple times (eight in this case, including the name under the building). The block on the sidewalk is called a carriage step, carriage stone or mounting block, if you were wondering. The above is the reverse of the Cabinet Card in the prior post.
Most of what appears presently online for Edward F. Hartley (1847 – 1887) comes from obituaries; some of the information we found conflicts, that being his year of marriage, studio location prior to Chicago (Jacksonville or Decatur but no record was found of either in city directories or newspaper ads) and whether he competed for professional photographer association prizes. In any case, Hartley was a very successful and well-known Chicago photographer whose studio was located at 309 W. Madison Street since at least 1877. The son of Methodist minister Charles Hartley and his wife Louisa (Louisa's given name per the 1850 Federal Census; however her maiden name wasn't located.) Edward Hartley was born in Wadsworth, Ohio, on November 9, 1847, (per the Daily Inter-Ocean.) On October 5, 1871 (or 1873) he married a judge's daughter, Virginia Boyd; they had no children. Below an excerpt from Edgar E. Boyd's Record of the Boyd Family:  John Boyd from Scotland and Descendants, which was compiled in 1913: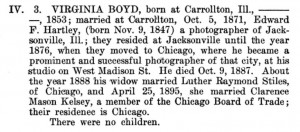 Below, two obituaries, from, left to right, from the Decatur Daily Republican (Decatur, IL) and the Daily Inter Ocean (Chicago, IL) and a funeral announcement from the Inter Ocean.
Below, a humorous analogy in advertisement by E. F. Hartley, showing the shrewd businessman in action. The "Sign of the Rooster" mentioned at the bottom of the ad, can be seen in other ads put out by him, as in the insert below, a rooster standing atop another rooster, victorious. (We found another, showing Hartley's rooster having completely beaten down the competition. That one was too graphic for our sensibilities, and we remind ourselves that this was the 1880s…probably what we today would view as negative in advertising (therefor to avoid) was perhaps just seen as getting the point across. The dogs at the trough image is a little rough, too. No pun intended 😉  As for the $2.00 Cabinet Cards, this price was for twelve Cabinets and one panel, a smokin' hot deal for the public, to be sure.
Below, from a couple of our readers (thank you!)….see the comment from J. Hill. Here's the beautiful shadow box and a close-up in sepia of the handsome, newly-married couple, names unknown, photographed by the Hartley studio. Note the bride's lace at the neck (unusual by today's standards I think, because it's not symmetrical) love her dark gloves, the beautiful embroidery on the bodice…and very unusual, that white piece of fabric sticking out below the bodice, seemingly so random, but in a way balancing out the lace on the neck in the overall effect. And those would be artificial orange blossoms (most likely made from wax) in the bride's headpiece and the groom's boutonniere, that now lovingly surround the Cabinet Card. Orange blossoms were worn and made popular by Queen Victoria at her wedding to her beloved Prince Albert.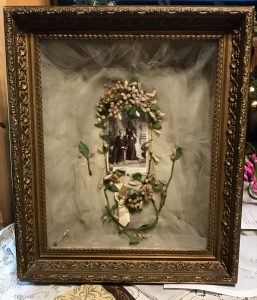 Update:  In response to a query from a reader, for the question of whether the Hartley studio continued after his death in 1887….There is a possibility that Edward's brother, Charles F. may have continued with the business, more research will be forthcoming. Below, the news clipping on Hartley's will appearing in Chicago's The Inter Ocean: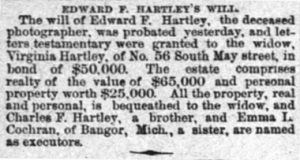 Sources:  Ancestry.com. Illinois, Marriage Index, 1860-1920.
Year: 1850; Census Place: Lawrence, Stark, Ohio; Roll: M432_731; Page: 94A; Image: 196. (Ancestry.com).
"Passed Away" Decatur Daily Republican (Decatur, Illinois) October 13, 1887, Thur, p. 3. (Newspapers.com).
"The Final Reward. Edward F. Hartley, the Well-Known Photographer, Answers Death's Dread Summons."  Daily Inter Ocean (Chicago, IL) Vol. 16, Issue 199. October 10, 1887, p. 5. (Genealogybank.com).
 "Laid to Rest" October 13, 1887, Thur, p.3 The Inter Ocean (Chicago) (Newspapers.com).
"Public Patronage Trough"  Chicago Daily Tribune. March 15, 1885, Sun, p. 2. (Newspapers.com).
"Hartley's Rooster" Daily Inter Ocean (Chicago, IL) Vol. 16, Issue 44. May 7, 1887, p. 4. (Genealogybank.com).
Hamilton, E. L. "With quiet determination, Queen Victoria chose a white wedding dress, launching the trend that endures to this day." March 20, 2018. https://www.thevintagenews.com/2018/03/20/queen-victoria-wedding-dress/ (accessed November 6, 2018).
"Edward F. Hartley's Will."  The Inter Ocean (Chicago, IL). November 2, 1887. Wednesday, p. 10. (Newspapers.com).