Divided back, unused, Real Photo Postcard. Circa 1902 – 1910.

Price:  $12.00
"With Love & affection to add to your collection.   Mizpah.   Lizzie."
Addressed to:   "Miss Dora Dixon, 10 Glenfield St. Glasgow."
Which young lady in the postcard photo is which, is unknown, but Dora Dixon, was found on the 1901 Scotland Census, listed at the above address, born in England, about 1882, living with her parents, William and Margaret Dixon, and siblings Mary, Elizabeth, John, William, Henry and Robert. Dora in 1901 was age 19 and working as a waitress.
An emotional bond
The given name Mizpah, sometimes spelled Mizpeh, is one we'd never hear before. The word means "watchtower" in Hebrew and denotes an emotional bond between two people who are apart. The ancient settlement of Mizpah is thought to have been in one of two locations, both just north of Jerusalem, though several other possibilities exist. There is also a Mizpah, Montana, New Jersey and Minnesota, as well as a whole category of jewelry which began in the early Victorian Era, and enjoyed a resurgence during WWI. See Michelle Graff's article on the history of Mizpah jewelry. In the screen shot below you'll see one or two pieces of Scottish origin, with the thistle, but many more can be found online.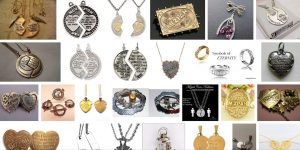 Sources:  Parish: Glasgow St Mungo; ED: 64; Page: 20; Line: 4; Roll: CSSCT1901_276. (Ancestry.com).
Mizpah. n.d. https://en.wikipedia.org/wiki/Mizpah_(emotional_bond). (accessed July 15, 2018.)
Mizpah in Benjamin. https://en.wikipedia.org/wiki/Mizpah_in_Benjamin. (accessed July 22, 2018).
Graff, Michelle. "The History Behind … Mizpah jewelry." (https://www.nationaljeweler.com/independents/2059-the-history-behind-mizpah-jewelry). Accessed July 29, 2018.
"images of mizpah jewelry" Google.com search, July 22, 2018.