A white veil or a goof-up?
You'll notice the "waves" in this trade card – it's not laying completely flat, but still an exceptional card:  showing an image of a Victorian Era auburn-haired beauty, in a sumptuous red gown trimmed with white lace and beads (or faux pearls?) wearing a long, large-beaded necklace, draped several times over, and with a cross pendant. (I keep thinking Madonna in the eighties). One of the best things is her headdress of oak leaves and acorns (love it!) She appears on a pale background of green leaves and acorns over red. But wait – what is the white part flowing from her left ear to shoulder? How funny – did the artist change his design and forget to fix it, or could it be meant to represent a veil flowing from the headdress? Hmmmm.
Almost a century

Acorn was a popular brand of stoves and ranges manufactured by Rathbone, Sard & Co., a very successful firm that had gone through a couple of name changes in it's earlier decades; the company appears to have lasted until around 1925. It was started by Joel Rathbone, between about 1827 and 1830 in Albany, New York, appearing under the name of Heermans, Rathbone & Co. in newspaper ads for 1830. According to A. T. Andreas' History of Chicago, Vol. 3, the partner, Mr. (John) Heermans died in 1830. Although, an online Ancestry.com tree includes a biography of Joel Rathbone (1806 – 1863) that indicates Hermans (Heermans) died in 1829, and provides further background information – that Joel started as a clerk for his brother Valentine Rathbone in the grocery business, and as early as 1827 was in business under Heermans, Rathbone & Co. Below is an 1830 ad from The Onondaga Standard. (Newspapers.com)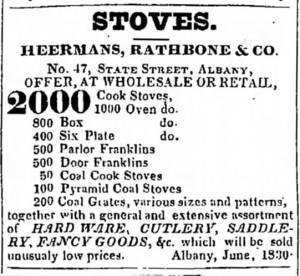 Firm name Rathbone, Sard & Co. established in 1873
In February of 1873, an ad ran in the Chicago Daily Tribune (Newspapers.com) showing the dissolution of the co-partnership, John F. Rathbone & Co. to the formation of co-partnership Rathbone, Sard & Co. According to the ad, this change took place in Albany, January 1, 1873.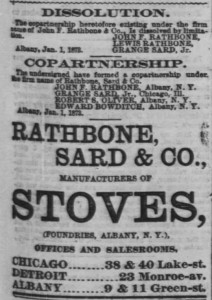 The brand Acorn was not found in any ads prior to (the officially-named in 1873) Rathbone, Sard & Co. And there are a number of different trade cards for the company currently found online; our particular beauty above, is extolling the virtues of  "The Eastern Acorn for 1886"  advertising it as,  "The most Successful and Deservedly Popular Surface Burning Revertible Flue Stove on the Market."  Design-engineered for cleanliness, comfort, ease of use, and efficiency; the description includes details like the fact that the body of the stove was constructed from the best Russia sheet iron.
Trade Card for Rathbone, Sard & Co. and Acorn Stoves & Ranges. Circa 1886. Lithograph company:  J. Ottmann, New York.

Price:  $20.00           Size:  About 3 and 7/8 x 4 and 1/2″
Sources:  Russia iron. n.d. https://en.wikipedia.org/wiki/Russia_iron (accessed November 22, 2015).
"Joel Rathbone" and "Hudson-Mohawk genealogical and family memoirs."  Ancestry.com Public Family Trees. (accessed November 22, 2015).
The Onondaga Standard. 15 Sep, 1830:  Wednesday, p.1 (Newspapers.com)
Andreas, Alfred T. History of Chicago, Vol. 3. pp. 483-484. Chicago:  A.T. Andreas Co. 1886. (Google eBook).
Chicago Daily Tribune. 22 Feb, 1873:  Saturday, p. 1 (Newspapers.com)

Torrance, Pat. History Cast in Iron at the Old Stove Works. Sept. 12, 2011. (Patch.com). Web accessed November 22, 2015.