Initially, four postcards were found that were addressed to Ida L. Vance; since then we ran across a fifth. This is just the third one getting up on the website, and though it was postmarked in May, it reminds me of chilly November weather (in keeping with a fall-going-into-winter theme.) It's a view in shades of black and grey on a cream-colored background, of Cape Ann with the lighter-colored rock formation being Brace's Rock.
See this Wiki article regarding American artist Fitz Henry Lane (1804 – 1865) for another view:  the artist's painting, Brace's Rock, Eastern Point, Gloucester (circa 1864).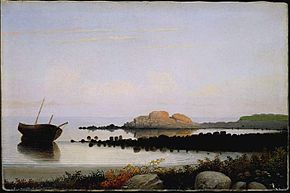 But from browsing through historical newspapers, what is striking, is the sense of forgotten history, but also of the contrast between today and "yesterday" when the East Coast waters seemed to be full of schooners, steamers, whalers, and newspapers and journals were full of reports on the same. Stepping back a little further in time (just through the fog…)
Storms and wrecks
From a December 1859 article in American Traveler, regarding the wreck of the schooner Prudence Nickerson, who's crew (or captain or both) mistook another ship's light for that of (presumably) a lighthouse:  "The light proved to be that of the steamer M. Sanford, lying at anchor between Ten Pound Island and the Point, and was seen over the low land at Brace's Cove. The Prudence ran a short time when she struck on the eastern end of Brace's Rock, and went to pieces in about two hours. The captain and crew succeeded in getting on the rock by means of the main bottom, although one of them was nearly washed off in the attempt. They saved nothing but what they had on and remained on the rock till daylight, when they waded ashore."
From the Shipping News, Vol. VI, Issue 314, an article that had appeared in the Salem Gazette, regarding a violent storm in October of 1792,  "Capt. Samuel Ingersoll, of Beverly, homeward bound from Port-au Prince, ran upon rocks at Brace Cove, and lost all but the people's lives."
On a lighter note
Regarding the steamer Reindeer's pleasure excursion in July of 1865 reported in the Cape Ann Light and Gloucester Telegraph:
"Leaving Fort Wharf at half past twelve, the steamer soon passed around Eastern Point and turned her head to the eastward. To those who had not sailed in that direction before, it was pleasing to note the different points of local interest that had been visited time and again from the land. Brace's Rock and Cove, Pebble Stone beach, Bass rocks, Little Good Harbor beach, Salt Island, Long beach and Milk Island, each in succession presented a different aspect from what the landsman had been accustomed to observe when visiting those places."
A sea "monster"
Two offerings from February and January 1870, appearing in the Cape Ann Advertiser:
"The great curiosity found by Mr. Barrett, at Brace's Cove, is on exhibition at No. 108, Front street. It is pronounced something remarkable, and no one, as yet, can tell what it really is." 
Further investigation showed the earlier report:
A Great Curiosity. – Mr. Moses Barrett, of East Gloucester, recently found at low water mark, at Brace's Cove, a most singular object, which resembles the head of some kind of marine monster. It is in form of an owl's head, with large bony projections which look like ears. Its weight is about seventy-five pounds, and it bears evidence of having been in the water some years. Hundreds have visited it the present week, and all pronounce it a remarkable curiosity."
Wow – was it a hoax or real? If real, here's to hoping though that the poor sea creature was given some thought (by many) to being something more than just a curiosity or scientific specimen. (Cecil and Beanie was my favorite cartoon.)
Undivided back, used postcard. Postmarked May 3, 1906 from Gloucester, Massachusetts. Publisher:  The Rotograph Co., New York. Printed in Germany.

Price:  $7.00
Sources:  Fitz Henry Lane. n.d. https://en.wikipedia.org/wiki/Fitz_Henry_Lane. (accessed November 28, 2015).
"Ship News. Disasters &c". American Traveler. Boston. Saturday, December 17, 1859. (Genealogybank.com)
"Marine Intelligence". Salem Gazette. Tuesday, October 16, 1792. Shipping News, Vol. VI, Issue 314, p. 3. (Genealogybank.com)
"Isle of Shoals". Cape Ann Light and Gloucester Telegraph. Saturday, July 22, 1865, p. 2. (Genealogybank.com)
"Off-hand Local Jottings".  Cape Ann Advertiser. Friday, February 4, 1870, p. 2. (Genealogybank.com)
"A Great Curiosity". Cape Ann Advertiser. Friday, January 28, 1870, p. 2. (Genealogybank.com)